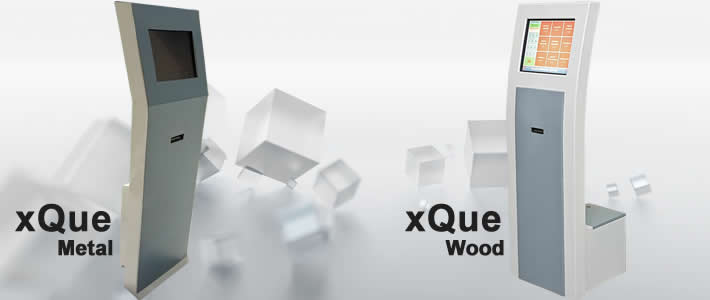 xQue is a Smart and sleek floor kiosk with touch screen, token printer and embedded server. Service being offered by the organization are visible on screen and user can choose required service by finger touch. Selection is available in English and Other.
xQue Kiosk Specification
Touch Screen: 15'' / 17'' Display
Token Printer: Thermal Receipt Printer (79.50 ± 0.50(W)mm)
Embedded Server: Windows 10
IO Ports: 1x LAN Ethernet,

a. 1x HDMI for Now Serving Display
b. 1x Wi-Fi Ethernet (Optional)
c. 1x 3G/ 4G Dongle (Optional)
Now Serving Display
xQue is bundled with a common display to show Now Serving token numbers with counter number. Available in 30"/ 40"/ 50"/ 55" LED Screen
Token Announcement System
xQue is equipped with a Next Token Announcement System.
Available in English and other voices.
Soft Calling Unit
Soft Calling unit a tool for agents to perform basic queue management activities such as calling and processing tickets.
Available in Browser and Windows App